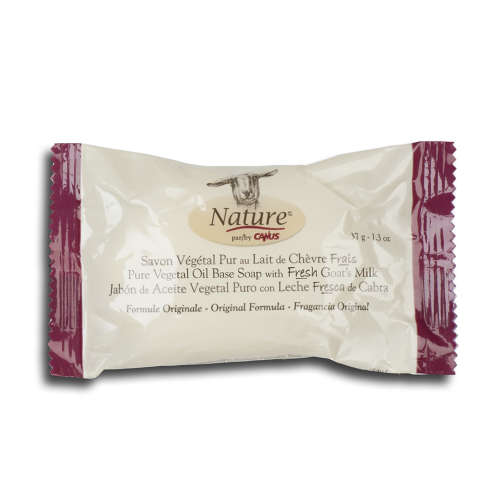 Product Name: Goat Milk Soap
Brand:
Nature by Canus
Disclaimer: I received this product free from Social Nature though the company Nature by Canus. I am doing an honest review and it my own words.
Category:
Beauty, Health and Beauty, Health & Beauty
Qualities:
Goat Milk Soap
Try Goat Milk from Nature by Canus
Choose your scent: Original, Fragrance-Free, Lavender Oil, Shea Butter, or Olive Oil & Wheat
Made with fresh goat's milk
Combined with pure vegetable oil and natural essential oils
Naturally hydrating
Rich in proteins, minerals, and vitamins
Formulated with no parabens, phosphates, or artificial colors
Eco-friendly packaging
Description:
The Goat Milk Soap from Nature by Canus is a pure vegetable oil based soap made with fresh goat's milk. The milk is naturally rich in proteins, vitamins, minerals, and triglycerides. All of these nourishing ingredients add to the moisturizing formula that will soothe your skin and prevent dryness. This soap is biodegradable and contains no artificial colors, phosphates, or parabens. Plus, it's great for all skin types!
Choose from 5 wonderful soap scents:
Original
Fragrance Free
Lavender Oil
Shea Butter
Olive Oil & Wheat
The Goat Milk Soap is good for me. I really like it. It seems to do me good with me with some bumps I get on my arms and have taken them away. I would say is what is is to do. I may have found a soap that I am not been allergic to if I am allergic to anything in a soap.

The Goat Milk Soap does wonderful and smells like lavender. When I first used it, I got an old lady smell but, other than that I see no problems with it.

It has been good for my mom as well. She used it and stated that takes away her dry skin. I would use is only a few times a week.
Please read my
NRC Policies
Page. Follow NRC: |
Facebook
|
Twitter
|
Bloglovin
|
Pinterest
|
Goodreads
|
Google +
|
Smashwords
|
Fictfact
|
Riffle
|
Linkedin
|
Sign up for NRC Newsletter
|